Garage Door Center Bearing
Garage Door Center Bearing Replacement
If your garage door uses a torsion spring, it also uses a center bearing that helps evenly distribute the weight of the door.
Like all components, bearings eventually wear down with repeated use. Worn bearings can stress out your other components and prevent your garage door from working its best.
At Precision, we find the source of garage door issues and offer repair and replacement services using the highest-quality parts available.
Why Do the Center Bearings Break?
Each end plate of the garage door system has a single bearing mounted on it, and the center bearing is located inside the torsion spring's stationary cone (which helps provide the force necessary to open the door). The bearing may be attached to the center bracket in some garage doors.
When center bearings break, they can cause stress on your other garage door components. These are a few common reasons they give out.
They're supporting too much weight and the pressure is causing them to bend or break.
They were installed incorrectly, or the springs were installed incorrectly and overloaded the other components.
They became worn or rusty due to a lack of maintenance and lubrication.
They'd been used for many cycles and broke due to everyday wear and tear.
You'll likely notice a problem when you have difficulty opening and closing your door or hear unusual noises or vibrating.
If you suspect that something is wrong with your garage door center bearing or any other part, it's best to call the pros sooner rather than later.
Professional Garage Door Center Bearing Installation
At Precision, we use only the highest-quality parts to replace your garage door components. When you make an appointment with us, our skilled technicians arrive at your location in trucks stocked with everything necessary to complete the job in a single visit.
Precision uses a heavy-duty center bearing to help assist the entire torsion system to operate smoothly.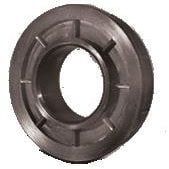 Other companies will use a center bearing made of plastic, with a plastic bushing, that only provides center support.
Let's get started!
We're ready to help you with all of your garage door needs. Give us a call! We're here 24/7.
Myrtle Beach's Trusted Garage Door Pros
Precision technicians use only the highest-quality parts to repair your garage door. This increases the durability and life span of your entire door, which saves you time and money on costly repairs in the long run.